June 4-5, 2022
Officially Graze The Bench 2022 is in the calendar for June 4 & 5! See main page for 2022 ticket info!
Just taking a quick break during a busy Harvest to share next steps. We hope you had a glorious summer visiting wineries, patios and enjoying your VQA favourite wines. Thank you once again for your patience during this challenging time as we all navigate new protocols. With ongoing Public Health consultation, we remain hopeful Graze the Bench will be held on June 4 & 5, 2022. This email outlines next steps for exchanging tickets.
New tickets are being printed for Graze the Bench 2022. Existing 2020 tickets & wristbands must be exchanged to be valid for 2022. The exchange dates will run from November 1st until December 31, 2021.
TICKET EXCHANGES HAVE HAVE NOW ENDED
Saturday 2020 ticket & wristband holders will receive tickets & wristbands for Saturday June 4th, 2022.
Sunday 2020 ticket & wristband holders will receive tickets & wristbands for Sunday, June 5th, 2022.
How to exchange 2020 tickets & wristbands for 2022:
If you purchased from a winery:
Please email the winery that you purchased your Graze the Bench 2020 tickets & wristbands between November 1st and December 31st and let them know you would like to exchange your 2020 tickets & wristbands for the Graze the Bench 2022.
The winery will commence exchanges as of November 1st, 2021.
You will be required to return 2020 tickets prior to receiving your new tickets.
If you purchased directly from EZ Tix:
Please email Jen Feschuk, Festival Director at grazethebench@gmail.com. Arrangements will be made for a ticket exchange. If you have already mailed in your tickets & wristbands, new 2022 tickets & wristbands will be mailed to you.
We are only able to offer exchanges at this time. As mentioned earlier this year, Graze ticket provider, EZTix declared bankruptcy. Unfortunately, this means EZTix did not provide any refunds to ticket holders and the Graze the Bench organization did not receive any of the funds from customers that purchased their Graze tickets through EZTix. However, the Graze wineries are 100% committed to honouring your tickets during the exchange period, welcoming you back and ensuring you have a wonderful experience.
Thank you for your patience and we look forward to good times & good, safe grazing together in 2022!
Contact Information for wineries:
Thirty Bench Wine Makers
fiona.muckle@thirtybench.com 905-563-0352
Angels Gate Winery
tours@angelsgatewinery.com 905-563-3942
Fielding Estate Winery
heidi@fieldingwines.com 905-563-0668
Hidden Bench Vineyards & Winery
mfinn@hiddenbench.com (Matt Finn) 905-563-8700
Peninsula Ridge Winery
Susan Pritchard – spritchard@peninsularidge.com – (905) 563-0900 Ext 28
Emily Dawson – emily@peninsularidge.com – (905) 563-0900 Ext 25
Shannon Campbell – scampbell@peninsularidge.com – (905) 563 – 0900 Ext 25
Rosewood Estates Winery & Meadery
taste@rosewoodwine.com (Kelsey Kaupp) 905-563-4383 x 1
The Organized Crime Winery
aniadeduleba@bell.net 905-563-9802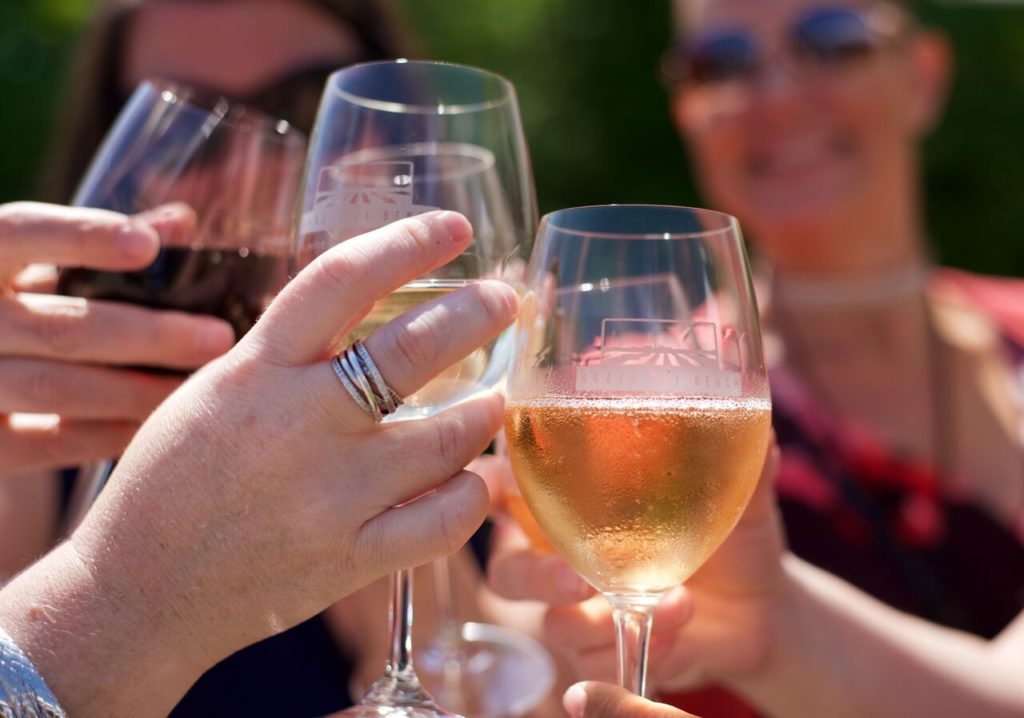 Your Graze the Bench Ticket Includes:
Access to private "Graze Zones"
A Graze the Bench Riedel wineglass
Your first glass of wine and your first delicious dish
Additional wines and food available at all wineries for only $10 each (including HST)
NEW: The Graze Shuttle – a $10 (plus HST) pass gets you full day hop-on, hop-off access
Important Note to Grazers
Tickets purchased through a Graze winery MUST be picked up at that winery prior to or on the day of the event. Tickets purchased online at grazethebench.com before May 1st will be mailed to you. Tickets purchased after May 1st are available for pick up at guest services during the event.
Guest Services & Shuttle Parking
St. John School: 5684 King St, Beamsville, ON L0R 1B0 (next door to Peninsula Ridge Winery). Please note that limo and bus parking is not available at the wineries.